Marriage Matters
Marriage Matters
Saturday, October 14, 2017

Important: This event has already occurred.

St. Joseph's Hall 600 4 Avenue West Kindersley, SK S0L 1S0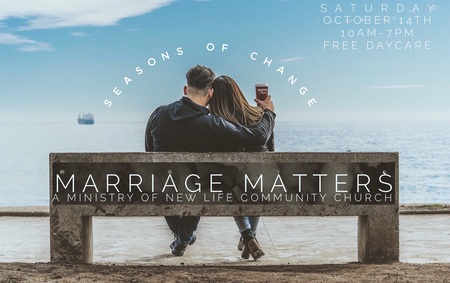 We have an exciting invitation for you!

OUR FIRST EVENT FOR MARRIAGE MATTERS!
This Marriage Matters kick-off event on October 14th focuses on "Seasons of Change." Whether you are newly married or have been married for years, a couple's goals and connection shift and change. What do you envision for your relationship and life together? What do you want to do, where do you want to go, and how do you continue to grow together through the changing seasons of your marriage? Come join us for a day filled with opportunities to reconnect, recharge, or reignite your relationship! We want to extend and invitation to you for our very first event on October 14th!



WHAT TO EXPECT
This event's theme is "Seasons of Change" and it is one jam-packed day where you and your spouse can sit back, enjoy guest speakers, activities and workshops with options for you to choose from together like a unique coffee corner to relax in together, discussions with other couples on topics to build relationships, a scavanger hunt that takes you around town together for something fun and active, and at the end of the day you can wrap it all up with a date night together (optional). We wanted options for every type of couple and to meet you where you're at, so that you can enjoy whatever option appeases you the most. Your ticket will include two meals catered by Simple Satisfied Catering, and the coffee shop corner will be available throughout the day to enjoy between sessions.

KEYNOTE SPEAKER JODI KOZAN
We are SO excited to welcome Jodi Kozan as our Keynote Speaker to our first Marriage Matters event, she is the founder of Women's journey of faith, as well as Hope Restored Canada and she has an incredible story to share. She is an engaging speaker with an inspiring message and we know you'll enjoy the sessions she brings to this event! To find out more, check out her website at www.jodikozan.com

CATERING
Lunch and supper meals provided by Simply Satisfied Catering, owned by Kindersley local Kelly Rayner who happens to make the best cupcakes on the planet! She is an incredible cook and is passionate about what she does, so we trust you will love her meals and go back for seconds!

FREE DAYCARE
Marriage Matters would like to offer FREE DAYCARE
to couples attending the October 14th event.
Childcare will be provided at the New Life Community Church building, located at 303 5th Ave West, Kindersley. We ask that parents pack their child a nut-free lunch and send $5 for a pizza supper for each child (we will provide snacks). It is important that parents arrive to check-in their child/children between 9:30-9:50. All children will need to be signed in and signed out when you come to pick them up in order to ensure accountability and safety.
Childcare is being provided by New Life Community Church Youth Ministries. If you feel like you would like to support our youth ministries and all the work that they do for our community there will be a donation box in the lobby; all contributions will go towards New Life Youth Ministries.
Richelle and Aynsley are here to answer any questions! Call us @ 306-463-4740!

GET YOUR TICKETS TODAY!

TICKETS
CLICK HERE FOR TICKETS! Tickets are $95/couple (ONE TICKET PER COUPLE) and you can get your tickets here! There's an earlybird option that ends October 1st so make sure to get yours before they sell out! We believe you will leave encouraged, empowered, and equipped with some great tools for your marriage and a restful heart!

-------------------------------------------------
Stay in the know and let us know you're coming! Click here to find us on Facebook and check out the latest updates!
For any questions, please email us at [email protected] and we will respond to you as soon as we can!
-------------------------------------------------


Event Overview
9:30-10:00 - Daycare Opens
(Free daycare for ages 3-12, available at New Life Community Church, provided by New Life Community Church Youth Ministries)
10:00am - Welcome in main auditorium
11:00am - Keynote Speaker, Jodi Kozan
12:00am - Lunch
Catering by Simply Satisfied Catering
12:45pm - Small Group Sessions
(Women's Group and Men's Group)
1:30pm - Breakout Sessions
(Numerous topics and activities to choose from!)
4:00pm - Q&A Panel Opportunity, and Closing Message
5:30pm - Supper
Catering by Simply Satisfied Catering
7:00pm - Date Night Opportunity
(Optional Event)
NOTE: Daycare closes at 7pm; however, additional time can be purchased if you choose to attend the Date Night Event.
We'd love to see you there! Get your tickets before Oct 1st!
- The New Life Team -
New Life Ministries! Marriage Matters
Return to Events
---